The number of giant pandas in the wild in China has reached more than 1,800 and their status has been changed from "Endangered" to "Vulnerable," the Chinese government said on 7 July 2021. 
Apart from wild giant pandas, the living conditions of rare and endangered species such as Tibetan antelope and Père David's deer, also known as the milu, have been improved, the Chinese Department of Nature and Ecology Conservation said at a press conference on Wednesday.
In September 2016, the International Union for Conservation of Nature (IUCN) removed the iconic black and white panda from its endangered species list (the "red list").
At the time the IUCN's decision to move the panda from "endangered" to "vulnerable drew criticism from the Chinese government, which believed the panda should remain on the endangered list.
However, now the populations of some rare and endangered species, including the Siberian or Amur tiger, the Northeast Asian leopard, also called Amur leopard, the Asian elephant and the crested ibis, have increased significantly, according to the announcement.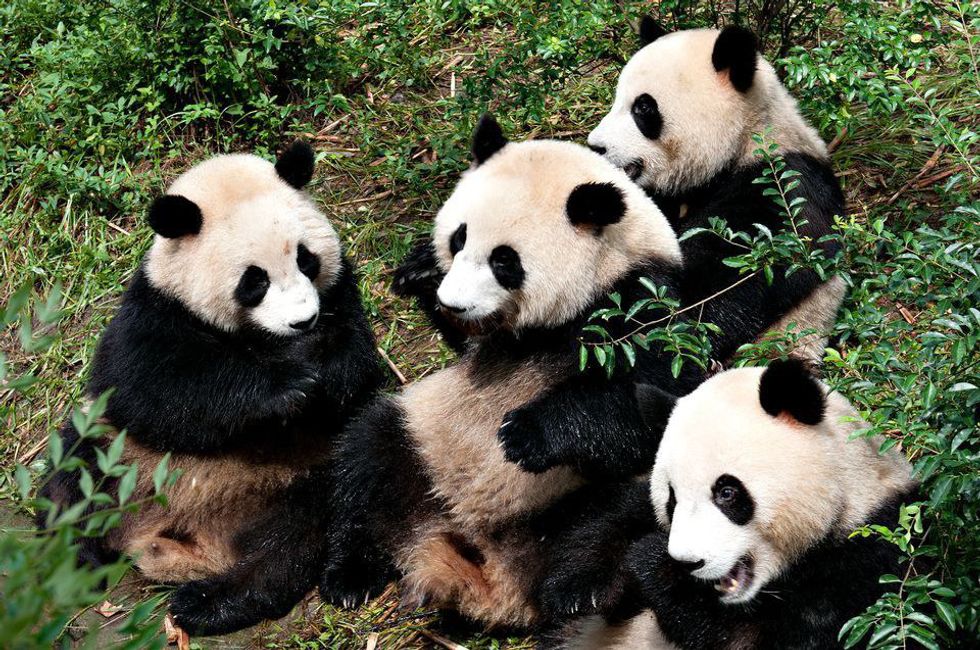 There have been many media reports on wild animals showing up across China recently, said Cui Shuhong, Director of the Department of Nature and Ecology Conservation under the Ministry of Ecology and Environment.
As an example, Cui mentioned that in Northwest China's Qinghai Province, people took photos of the Chinese mountain cat, a species under China's national first-level animal protection, being dubbed as one of the most mysterious felines in the world. There have been very few records of this species for many years, he said.
In March, the People's Daily published photos of the precious rufous-necked hornbill taken by nature photographers in the mountains of Southwest Yunnan Province.
Media coverage on Siberian tigers entering villages, wild Asian elephants marching in Yunnan and a whale spotted in a bay in South China's Guangdong Province, have also attracted public attention, Cui added.
These reflect to some extent China's achievements in the protection of biodiversity and ecological restoration, noted Cui.
China has established a relatively complete system of protected natural areas, Cui said, adding that China's wildlife habitats have effectively improved and large natural ecosystems have been systematically and completely protected.
Source: ECNS / Global Times, 7 July 2021 http://www.ecns.cn/news/panda/2021-07-08/detail-ihanwqfr7912310.shtml