Cuba began investing in renewable energy in 2014 and is ramping up its efforts in a push to make renewables its principal source of electricity by 2030. According to Xinhua News (2019-05-18), China is one of the leading investors in Cuba's renewable energy program.
Cuba joined China's Belt and Road Initiative (BRI) in 2019, hoping it would assist in strengthening its troubled economy, which has been badly hit by aggressive US sanctions for decades. China already become Cuba's main trading partner in 2017. That year, the two countries exchanged around US$1.8 billion worth of goods. Cuba imported US$1.35 billion, mostly electrical products, and exported $379 million, with raw sugar and nickel accounting for the majority.
"We hope to get involved in this project in the most committed way possible, and that this means the Chinese business sector participates more actively in the process of updating our economic model," Orlando Hernández, president of Cuba's Chamber of Commerce, said of the BRI.
Bruno Rodríguez Parrilla, Cuba's foreign minister, has reiterated that Chinese policies on trade and investment in Latin America are "highly appreciated" because they are "respectful of international law, and the independence and sovereignty of countries."
China is also partnering with Cuba in the development in bio-medicines. Several Chinese companies specializing in bio-pharmaceutics and renewable energy have now operate in the Mariel Special Development Zone, a budding investment hub.
In energy reform, Cuba's goal is to produce 24% of its electricity from renewables such as sugarcane biomass, solar panels, wind farms, and small hydroelectric plants by 2024. "Photovoltaic solar energy is the one with the most progress, and there are 65 parks built throughout the country and another 15 are in process that will increase the installed power to 42 megawatts," says Tatiana Amaran Bogachova, general director of the Electricity Department at Cuba's Ministry of Energy and Mines. (Sources: ACN and CleanTechnica)
In 2019, 95 percent of the energy used in Cuba came from fossil fuels, and only five percent stems from renewable energy sources. The Cuban renewable energy strategy targets solar, wind energy and biomass as its main sources. Ongoing investment and projects look at reaching a potential of 2 thousand Megawatts out of solar energy, 700 Megas from wind parks and another 600 from bioelectric plants operating in sugar mills. (Source: ACN)
CleanTechnia reports that by May 2019 Cuba was operating four wind parks with a total power output of 11,8 Megawatts, another three parks will soon join in, and new bio-electric plants linked to sugar mills are also in the works.
According to experts, the increase of the use of renewable energy sources would allow Cuba to replace 2,3 million tons of fossil fuel annually for the generation of electricity.
Ovel Concepcion, director of renewable sources at the island's Electric Union, says his organization expects to install 700 megawatts of renewable solar power by 2030. "We will also set up some 688 MW in wind farms, 56 MW in hydroelectric plants and provide electricity through photovoltaic panels in all remote homes that have no access to any other source of energy," he says.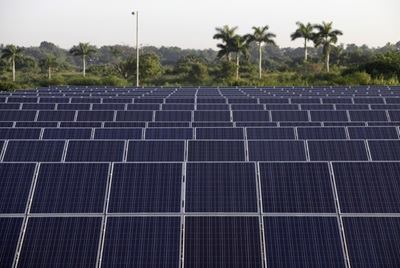 Electricity from solar panels costs 95% less than electricity from traditional thermoelectric facilities. Solar also has the advantage of bringing electricity to remote areas of the island that have no access to the utility grid. Today there are over 17,000 solar panels that serve those underserved areas.
"Today there are four projects in different construction phases of solar energy parks with international investment for a total of 200 MW," Conception says. "One of them is the first park with 100 percent foreign capital located at the Mariel Special Development Zone." Four experimental wind energy parks with an output of 11.5 megawatts of renewable energy are under construction, financed in large part by investment from China and the UK. The La Herradura 1 and 2 wind farms in eastern Las Tunas province will have 54 turbines that feature Chinese technology.
Cuba has a lot of sugarcane. The biomass remaining after the sugar is extracted from the plants will be used to power electrical generating plants. "The electrical surplus after the sugar manufacturing process will be sold to the Electric Union for the nation's energy system," says Barbara Hernandez, head of power generation at the state-run sugar producer Azcuba. "It's a way to recover the investments of bioelectric plants and use this model once the harvest is over."
The country's first bioelectric plant is being built in central Ciego de Avila province, about 450 km east of Havana, with a joint investment between the island and companies from China and Britain. "This plant will generate around 157 KWh for each ton of sugar cane processed by the adjacent Ciro Redondo sugar mill. It's now at 41 percent of its construction plan with the aim of starting operations by the end of the year," says Francisco Lleo Martin, general director of Zerus, a Cuban holding company for foreign investment in the sugar sector.
Several significant joint projects are underway. These include the transition from analog to digital television and the expansion of mobile broadband, led by Chinese telecommunications giant Huawei, and the creation of an artificial intelligence centre.
In the 2019 summer, Beijing donated Chinese-made trains to Cuba as a means of solving the problem of inter-provincial transport on the island.
According to China Daily, Cuba, which is long, narrow and mostly flat, is ideally suited to rail systems. The Caribbean island was the first country in Latin America, and one of the first in the world, to have rail service beginning in 1837 with a 27-km line built to serve Cuba's sugar industry.
As part of a program to modernize Cuba's aging railway network, the four Chinese trains are now offering nationwide service to the local people, and more and more Cubans have relied on these trains as their key means of cross-country transportation.
These four trains have almost doubled the passenger capacity of the previous seven trains, which were acquired secondhand and have been retired after four decades of service.
And more Chinese-built trains are on the way. Thanks to a soft loan from China payable over 15 years, Cuba purchased a total of 240 rail-cars, which are to be delivered in batches of 80 each year through 2021.
China has continued to expand its economic partnership in dozens of countries around the world. Its philosophy is one of "win – win". The United States, on the other hand, refuses to engage economically with any nation that doesn't hew to its ultra nationalistic politics. Exceptions are made only for countries that purchase enormous amounts of weapons from America's armaments manufacturers.
America's infatuation with the illusion of greatness is leaving the door wide open for other countries to forge economic and political ties with a neighbor just 90 miles away. Such short sighted policies will hardly get reactionaries what they want most — the adoring embrace of the world community.
Sources:
https://cleantechnica.com/2019/05/19/china-invests-in-renewable-energy-in-cuba/
http://www.cubanews.acn.cu/cuba/14234-cuba-ratifies-commitment-to-the-development-of-renewable-energy-sources
https://asiatimes.com/2019/11/cuba-marks-new-era-of-china-ties/
https://www.researchgate.net/publication/334098544_Solar_Energy_in_Cuba_Current_Situation_and_Future_Development