Cuba has officially joined the Alliance for Energy of the Chinese Belt and Road Initiative (BRI), a project to build an international mega-platform for cooperation and exchange under the principle of shared profit. The announcement was issued by the Cuban Foreign Ministry in a statement this Monday, October 18, 2021.
During the second ministerial conference of the international platform, the Alliance for Energy of the Belt and Road project, the Cuban ambassador to China stressed the importance of the group to expand and diversify collaboration in this sector and collectively overcome the challenges of global energy development.
China views cooperation in eco-civilization as a key component of the BRI and adopted a series of green measures in infrastructure, energy, and finance to support participating countries with funds, technology, and development of productive capacity.
The Cuban ambassador in Beijing, Carlos Miguel Pereira, highlighted the importance of the initiative for the expansion and diversification of collaboration in the energy sector, to collectively overcome the challenges faced worldwide.
The diplomat ratified Cuba's commitment to contribute to sustainable progress, and invited Chinese companies and institutions, and the rest of the partnership's members, to work in fields such as the promotion of green energy and inclusive access to energy services.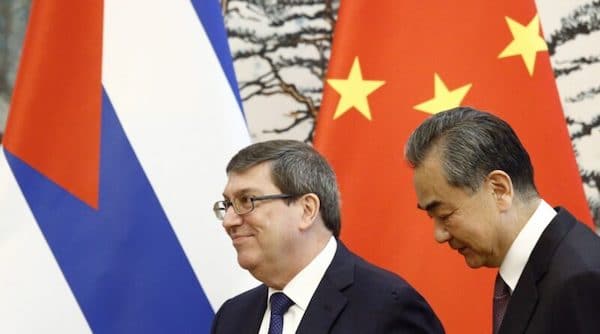 The Cuban Minister of Energy and Mines, Liván Arronte, elaborated on the development of renewable energy sources in Cuba, with the purpose of promoting the efficient use of these resources and achieving independence in this sector.
Arronte called for increased international cooperation and solidarity in favor of countries in the Global South to face today's ecological and environmental challenges and meet the United Nations Sustainable Development Goals.
The integration of the "One Belt, One Road" initiative across Latin America and the Caribbean was further deepened with agreements between China and other countries in the region that make up the Community of Latin American and Caribbean States (CELAC).
The Belt and Road Energy Alliance began in October 2018 during the Belt and Road Energy Ministerial Conference in Suzhou, and was officially launched in Beijing in April 2019. The Alliance currently has 29 member countries.
SOURCE: Monthly Review, 23 Oct 2021 https://mronline.org/2021/10/23/cuba-now-part-of-chinas-belt-and-road-energy-alliance/
Originally published: (In Spanish by) Misión Verdad (October 21, 2021 ) Translation: Orinoco Tribune
https://misionverdad.com/cuba-integra-la-alianza-energetica-de-la-franja-y-la-ruta-de-china
Cuba pushes ahead with renewable energy transition
Cuba began investing in renewable energy in 2014 and is ramping up its efforts to make renewables its principal source of electricity by 2030.
Cuba plans to significantly increase renewables its principal source of electricity and to produce 24% of its electricity from renewables such as sugarcane biomass, solar panels, wind farms, and small hydroelectric plants by 2024. "Photovoltaic solar energy is the one with the most progress, and there are 65 parks built throughout the country and another 15 are in process that will increase the installed power to 42 megawatts," says Tatiana Amaran Bogachova, general director of the Electricity Department at Cuba's Ministry of Energy and Mines.
Electricity from solar panels costs 95% less than electricity from traditional thermoelectric facilities.
Ovel Concepcion, director of renewable sources at Cuba's Electric Union, says Cuba expects to install 700 megawatts of renewable solar power by 2030, as well as 688 MW in wind farms, and 56 MW in hydroelectric plants. Already there are over 17,000 solar panels that serve those remote and Cuba plans to provide off-grid photovoltaic panels in all homes that have no access to the main power grid.
Cuba's first bioelectric plant is being built in central Ciego de Avila province, about 450 km east of Havana, with a joint investment between the island and companies from China and Britain. "This plant will generate around 157 KWh for each ton of sugar cane processed by the adjacent Ciro Redondo sugar mill. It's now at 41 percent of its construction plan with the aim of starting operations by the end of the year," says Francisco Lleo Martin, general director of Zerus, a Cuban holding company for foreign investment in the sugar sector.
China is one of the leading investors in Cuba's renewable energy program. Several Chinese companies specializing in renewable energy now operate in the Mariel Special Development Zone, a budding investment hub in Cuba.
For more information see: 'China invests in renewable energy in Cuba' in China Environment News, 21 July 2021