New project contracts in Central and South America promise to transform the region
Power Construction Corp of China, or PowerChina, said it will step up its expansion in the Latin American market.
As part of its plan, it has already signed a construction contract for a 200-megawatt photovoltaic power project in May with Argentina's Jujuy Provincial Energy and Mineral Co.
In addition to the new 200-megawatt power plant, the project includes the expansion of the Cauchari PV plant, the largest and highest of its kind in South America, more than 4,000 meters above sea level with extremely superior sunshine resources.
It was contracted out jointly to PowerChina and Shanghai Electric Power Construction Co Ltd and work began in 2017.
Located in the southern Jujuy province of Argentina, the solar project includes Cauchari I, II, III photovoltaic projects and a 345 kV booster station, with a total designed installed capacity of 315 MW.
Covering an area of about 700 hectares, the project's estimated annual carbon dioxide emission reduction is expected to be 325,000 metric tons, and the service life will be 25 years, said PowerChina, a Beijing-headquartered State-owned enterprise.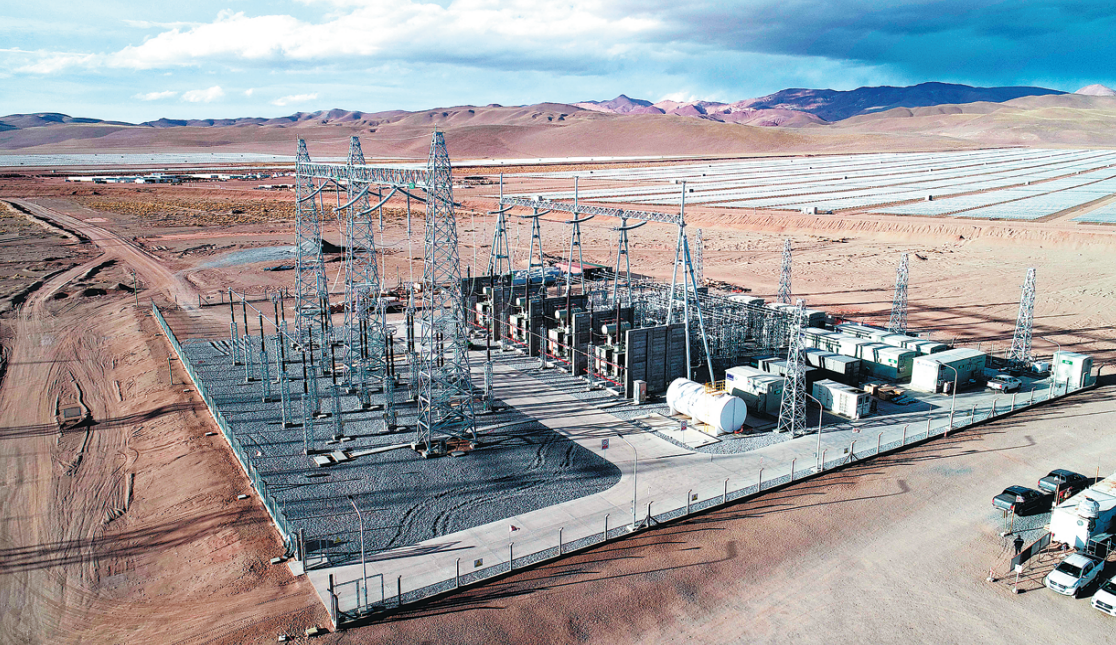 Upon completion, the plant is expected to contribute to Argentina's energy transformation and sustainable development, with an annual power output of 480,300 megawatt-hours and will provide clean energy for about 170,000 households, said Yao Qiang, Power-China's vice-president.
The project will also bring about $50 million per year of power generation revenue to Jujuy province, laying a solid foundation for the economic development of the province.
The company entered the Argentina market as early as 2011 and has signed more than 20 projects since then.
By the end of May, the Argentina branch of the company sees 14 projects under construction, mostly solar and wind power projects, it said.
PowerChina, a prominent infrastructure project builder, has become a major force in supporting economic, industrial and social development in Latin America as the company is seeking bigger presence on the global stage.
Yan Zhiyong, chairman of Power-China, said the company's total overseas installed capacity has exceeded 190 million kilowatts since 2004, benefiting more than 1 billion people across the globe.
PowerChina is also one of the internationally known State-owned enterprises in China with its new global business contracts accounting for one-third of the company's total, and growing at a fast clip in recent years, he said.
Since debuting in Latin America in 2003 with a 7 MW hydropower project, PowerChina has become well-known for its expertise in hydropower, solar and wind power, as well as in planning renewable energy projects. The enterprise is also famous for design and construction, as well as investment and operations in regional markets.
With its business covering 35 countries in the American markets, including Argentina, Mexico, Brazil, Colombia, Panama and Honduras, the company currently has 57 projects under construction in 15 countries in Central and South America, with a total contracted value of almost $10 billion, it said.
Even in 2020, when the whole world was impacted by COVID-19, with Latin America being one of the most acutely affected regions, the company still managed to sign 49 projects despite lockdowns and travel disruptions.
According to the Ministry of Commerce, China's outbound direct investment grew by 11.4 percent year-on-year to $43.9 billion during the January-April period this year.
The total contract value of Chinese companies' newly signed overseas projects, converted into US dollars, also rose 9.1 percent year-on-year to $71.44 billion.
Manufacturing, infrastructure and transportation projects in overseas markets all increased during the same period, it said.
Experts believe China's wide-ranging outbound direct investment portfolio will help revitalize the global economy while easing the impact of the COVID-19 pandemic on more countries and regions.
Ren Xingzhou, a research fellow of the Institute of Market Economy at the Development Research Center of the State Council, said China's growing ODI will provide opportunities for other countries to enhance ties with China, considering that the country is the only major economy to have recorded positive economic growth last year.
China has successfully handled COVID-19 and exported more products and medical supplies since the second half of 2020 than other countries, while many Chinese companies were also able to resume operations quickly, she said.
In Guyana, PowerChina has signed a contract with Zijin Mining, one of China's biggest gold and copper producers, to jointly develop the Guyana gold fields. This is the first cooperative project that PowerChina took on with Zijin in overseas markets.
The Buritica gold mine project in Colombia has laid a solid foundation for its future mining projects in Latin America, the company said.
PowerChina would also further expand its business in emerging countries, including Peru, Mexico and Brazil, as well as Chile and Colombia.
PowerChina has signed three agreements to set up a water factory, a hospital and a gold mine-related facility in Colombia in 2020.
In addition to its mainstay of power-related businesses, Power-China said it would foray into new business sectors, including rail and transportation as well as the consumer market.
SOURCE: China Daily, 2021-07-05
https://global.chinadaily.com.cn/a/202107/05/WS60e25b8ea310efa1bd65fa84.html?fbclid=IwAR3VUuQ7BE90k32Pg8eb9rVMoEFx61VN9Cjrp4uYzzihbrD0VXb4f7Nf08Q