The Democratic People's Republic of Korea (DPRK) – North Korea – has signaled an increased interest in developing renewable energy to address its national energy crisis and economic challenges, which the DPRK blames mostly on U.S. and U.N. sanctions. It is likely that the success of North Korean renewable energy projects will depend on the willingness of China to facilitate or assist with its development.
Domestic Front
The pursuit of energy-producing alternatives to heavily sanctioned resources, such as coal and oil, has been a central focus of North Korean economic policy under Kim Jong Un since he assumed power in 2012. For example, Pyongyang began to legally regulate the development and use of renewable energy in 2014 through the Renewable Energy Act with the goal of expanding renewable energy generation capabilities to 5 million kW (kilowatts) by 2044. North Korea's mountainous terrain and strong coastal winds provide an ideal environment for generating wind and solar energy, especially during the harsh winter season when hydro energy-generating dams and rivers are often frozen.
North Korea has a history of utilizing its natural resources to compensate for financial difficulties created by sanctions. In 2017, North Korea generated 55 percent of its total electricity from hydroelectric plants and the remaining 45 percent from fossil fuels, signifying a national reliance on renewable energy.
However, North Korea still favors coal as a major export commodity and overall energy source for its economy. Total coal exports plummeted following additional U.N. sanctions in 2016 and China's decision to reduce coal exports from North Korea in 2017 due to international pressure. As a result, North Korea will likely invest more capital and resources into developing renewable energy facilities, while still relying on key trading partners like China to keep its economy afloat in the face of US-inspired sanctions.
The leadership in Pyongyang continues to signal significant interest in expanding its renewable energy capabilities. During his 2019 New Year Address, North Korean leader Kim Jong Un announced that greater investment in tidal, wind, and nuclear power can contribute to solving the national power shortage issue and economic challenges posed by sanctions. Since his speech, North Korean state media has published over 280 articles describing national advancements in harnessing natural energy including major universities, such as Kim Il Sung University and Kim Chaek University of Technology, developing solar energy generation systems comprised of domestic materials for industrial use.
The Arirang Maeri recently announced that the country's Science and Technology Complex has installed "thousands of solar panels on its roof and along the Taedong River to create a single solar power plant to guarantee power for thousands of computers, network- and communication-related equipment, as well as lighting." North Korean media outlets have also claimed that the country's Solar Heating Equipment Distribution Agency plans to develop new technology and products using solar energy across the country, but it is unclear how successful and far-reaching these projects will be given North Korea's financial limitations.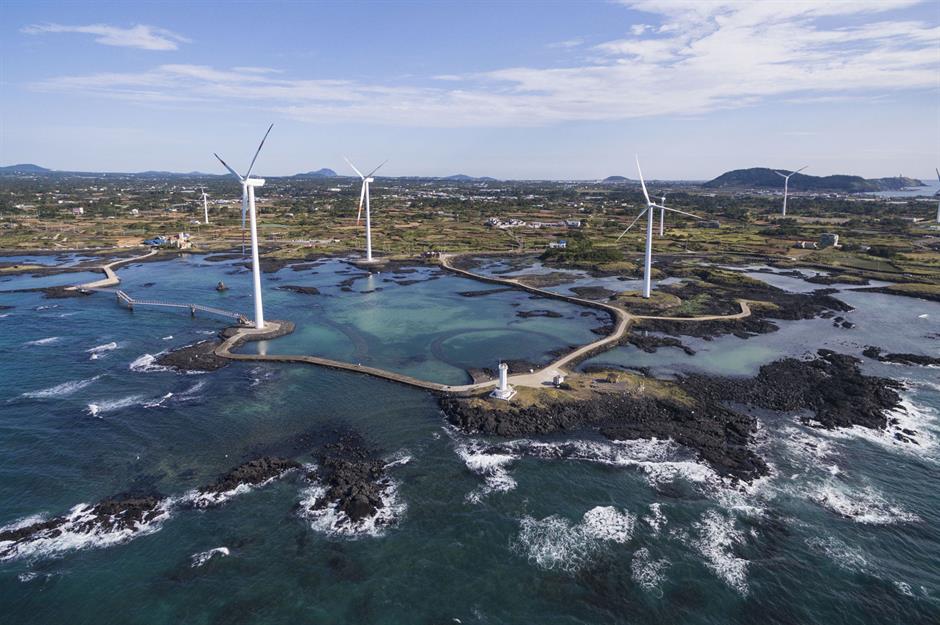 International Front
Despite these achievements, it is likely that North Korea may still require foreign assistance to finetune its renewable energy production facilities and processing skills. This is where China's global leadership in renewable energy manufacture counts – North Korea reportedly imported over 466,000 solar panels from a single Chinese solar energy company, Sangle Solar Power, in 2017.
North Korea's heavy reliance on energy exports from China appears to have diminished over the years as Chinese customs data showed that electricity exports to North Korea in the second quarter of 2017 declined by roughly 98 percent. In fact, Chinese imports of electricity from North Korea increased by 62 percent this year compared to last year, equating to roughly $12 million of electricity imports from North Korea in the first three quarters of 2021. North Korea may want to shift away from heavy reliance on China for energy production, but it is still far from reaching true self-sufficiency on renewable energy alternatives.
North Korea is also likely to play an increasingly more important role in rare earth metals trade. Reports indicate that Pyongyang proposed an investment deal with Beijing in 2019 to foster a renewable energy partnership. North Korea is said to have proposed an energy project that would grant Chinese companies the rights to a rare earth mineral mine in North Pyongan province in return for Chinese investment in the construction of solar power panels in neighboring regions.
Since the closure of the China-North Korea border due to COVID-19 concerns in January 2020, state-run companies in North Korea have reportedly stockpiled ore of the earth metal molybdenum with hopes to benefit once cross-border trade resumes. Estimates now show its worth has risen from about $4,600 per ton of molybdenum powder to $7,700 per ton during the boarder closure. This material is essential for manufacturing alloy steel and often used in semiconductors for its electromagnetic and heat-resistant properties. The price jump could place greater strain on the global supply chain of semiconductors.
Strategically, China currently provides more than 85 percent of the world's rare earths, a vital resource for renewable energy development. However some experts believe North Korea is sitting on a trillion dollar-worth industry of mineral resources and rare earth metals.
If Beijing were to assist Pyongyang in the extraction, processing, and manufacturing of these metals, it could provide both countries with an unmatchable competitive advantage in the global trade of these materials.
SOURCE: Edited from: The Diplomat, December 07, 2021
 https://thediplomat.com/2021/12/north-korea-plans-to-dig-deep-into-renewable-energy-alternatives/