Ten Guangzhou officials have been penalized for their involvement in a "destructive" tree-removal project from the southern city's urban landscape, China's top anti-corruption watchdog said on 13 December 2021.
As punishment, provincial authorities in Guangdong province dismissed five current and former senior officials — the latter now working elsewhere in the province of which Guangzhou is the capital — including the head of municipal forestry and a former vice mayor, according to the Central Commission for Discipline Inspection. The remaining officials, including Guangzhou's deputy party committee secretary, were either given warnings or received "demerits" for their involvement.
Many residents say they have grown up alongside the banyan trees — native to the city — and have fond memories of them. The decision to remove the trees that line up the streets and river banks for urbanization projects was met with public backlash over the summer.
"I feel sad every time I hear the sound of trees being chopped down," Johnny Wei, a Guangzhou resident for over 30 years, told Sixth Tone, recalling going to school amid full-grown banyan and paperbark trees. "Those trees are the first habitants of the city."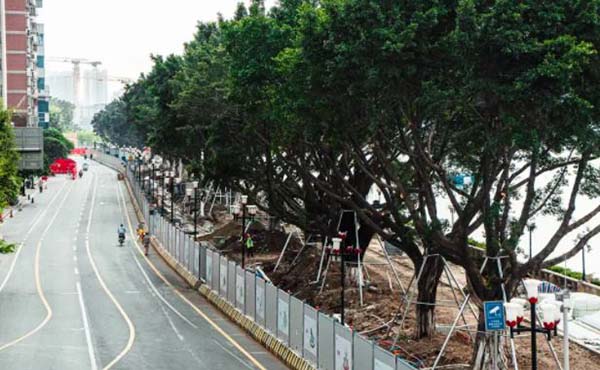 Guangzhou has over 270,000 banyan trees, accounting for over 47% of the city's roadside plants, according to the municipal forestry bureau. But the city started a campaign to cut down shadowy banyan trees in recent years, vowing to make the urban landscape more "visually permeable," and minimize damage during typhoons, as the species is said to not withstand extreme weather conditions, financial outlet Caixin reported.
But residents argue that banyan trees provide shelter during Guangzhou's tropical summer with its thick and broad canopy, adding that landscape modification should also consider the benefit to locals. Residents have launched an online campaign and a performance art activity to save their urban forest, encouraging residents to share their personal stories associated with the city's banyan trees.
Wei said many residents have been unhappy to see banyan trees being replaced with exotic seedlings since 2017. But it was only in May that more locals banded together after authorities began chopping down trees in popular areas, including the banks of Pearl River.
Following media reports, city authorities in June backed from cutting the banyan trees and aimed to solicit public opinion. On 8 December 2021, provincial authorities released a new policy on "scientific greening," asking local officials to "try their utmost" to avoid cutting down old and fully grown trees during construction projects.
However, locals lamented that many trees had already been axed to make space for Guangzhou's sprawling urbanization over the decades.
"What a pity that half of them are already gone," Wei said, remembering the street of his childhood, lined with lush trees.
SOURCE: Sixth Tone, Dec 13, 2021.
https://www.sixthtone.com/news/1009194/guangzhou-officials-punished-for-axing-citys-beloved-banyan-trees#