New measures in pipeline to boost non-fossil energy's role in promoting green transition
China's nonfossil energy will not only meet the country's incremental energy demand but also replace fossil fuel stocks on a large scale by 2030, authorities said on Thursday.
A statement jointly released by the National Energy Administration and the National Development and Reform Commission on Thursday said China will come up with an integrated institution and policy system for low-carbon energy development by 2030, when the country's nonfossil fuels will play an important role in ensuring a steady domestic energy supply.
China will by then come up with a series of policies, standards and supervising systems, and continuously push forward the country's green energy transition under the condition of domestic energy security, it said.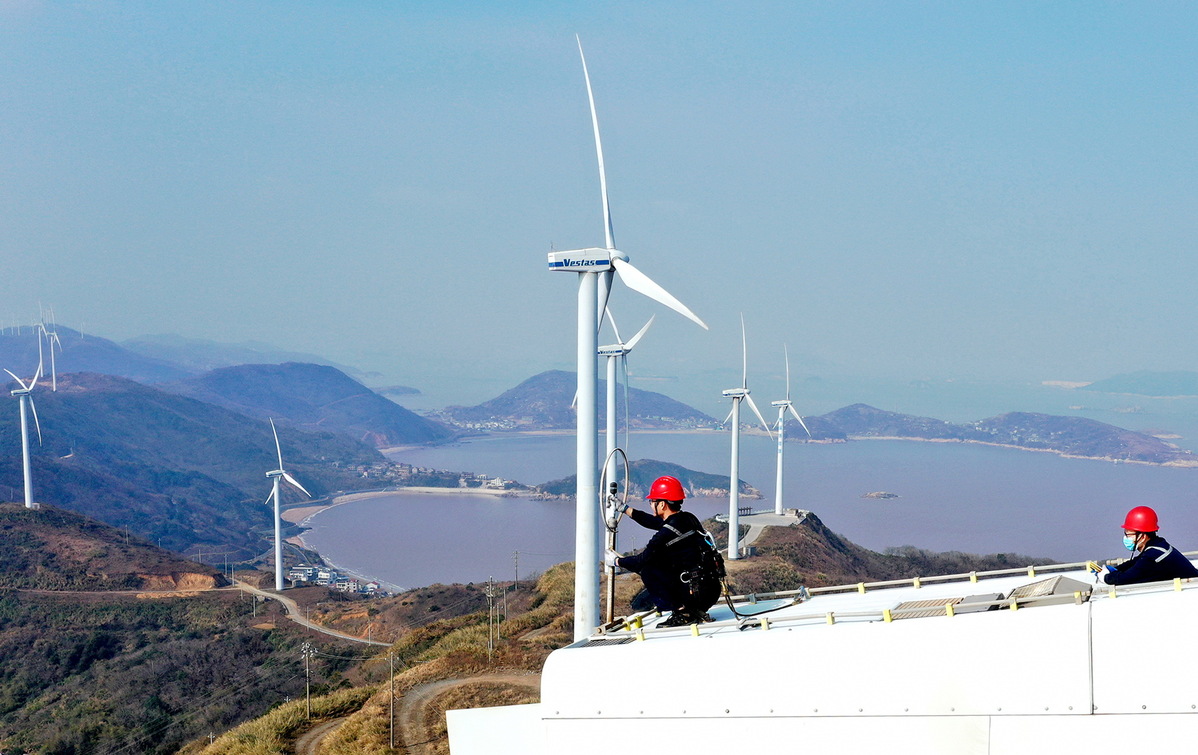 Chinese authorities also emphasized the importance of speeding up construction of large-scale wind and solar power bases in the country's deserts to push forward construction of a greener energy supply system with clean and low carbon energy as the mainstay.
The government will continue optimizing the energy mix via furthering the use of wind and solar in more arid areas while upgrading and reconstructing existing coal-fired power generation units. It will also facilitate new energy power transmission to ensure that clean energy is not wasted.
It is necessary that clean energy should be fully utilized to generate power and all power generated by clean energy should be connected to the grid, it said.
An analyst said the construction of a gigantic renewable energy complex in China's desert regions will further facilitate the country's ambition of reaching more than 1,200 gigawatts of installed solar and wind capacity by 2030.
Luo Zuoxian, head of intelligence and research at the Sinopec Economics and Development Research Institute, said the country's low-carbon energy as the mainstay of its energy mix will play a key role in the country's achieving a carbon peak by 2030 and carbon neutrality by 2060.
The statement also emphasized the importance of adjustment and regulation of clean energy transmission, which will also better divert power and avoid power waste, Luo said.
China started working on a massive renewable energy project in desert areas last year, including the first phase comprising 100 GW of wind and solar energy that had started operations last October. The second batch of massive wind and solar power projects is expected to start construction this year and begin operations and get connected to the grid by 2023, according to the NEA.
Luo said the upgrade and reconstruction of existing coal-fired power generation units emphasize the importance of fossil fuels in ensuring energy security and peak load regulation.
Coal still plays an important role in the country's energy supply and should not be denied completely, he added.
Source: China Daily, 2022-02-11.
http://www.chinadaily.com.cn/a/202202/11/WS6205bf38a310cdd39bc86043.html