Cuba's energy minister says the country's long-term goal is to generate 100 percent of its electricity from renewable sources.
The second International Renewable Energy Fair, was held on June 22 to 24 at the Pabexpo fairgrounds in the Cuban capital, Havana, and featured the participation of important institutions and foreign companies from 29 countries.
The event sought to promote foreign investment emphasizing solar energy and biomass and their efficient use in the local development and residential sectors for the gradual transition of Cuba towards an energy matrix based on renewable energies, for which foreign and national investors will be presented with market opportunities in the sector, said Guerra Campaña.
Another goal is to support innovation projects in execution and promote universities' and research centers' scientific and technical services.
According to Energy and Mines Minister Livan Arronte, the event is crucial due to the need to change the energy matrix in Cuba, whose goal is to reach 100 percent use of renewable energy sources.
Rosell Guerra Campaña, director of Renewable Energies at the Ministry of Energy and Mines, said that that organizations such as the Energy Alliance of China's Belt and Road Initiative, International Renewable Energies Agency, the French Development Agency, and the United Nations Organization for Industrial Development, among other companies and entities, presented their experiences regarding renewable energy generation.
The program of activities included key-note lectures, such as the one on the European Union's Green Deal, and international seminars dedicated to topics such as energy efficiency, he explained.
Guerra Campaña commented that an exhibition fair was held with a total of 24 participants, of which 10 belong to foreign companies that work directly in production and services with the use of renewable energy sources.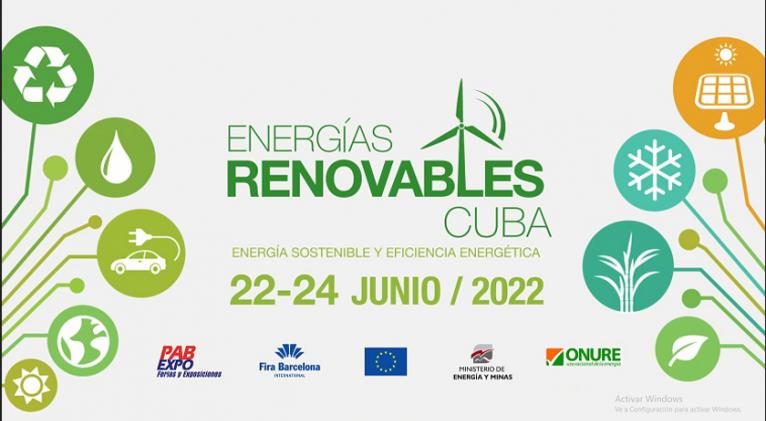 Electric mobility, green hydrogen, energy storage and the presentation of the new Bioenergy Atlas of Cuba were some of the most novel technical issues, he stressed.
An update on the implementation of the Cuban renewable energy and energy efficiency policy was presented at the Sustainable Energy Forum, the official announced
Liván Arronte Cruz, Minister of Energy and Mines, also said that the event presented initiatives that contribute to the energy sovereignty of the largest of the Antilles and the use of clean and environmentally friendly energy.
Sources: Prensa Latina, and Radiohavana, Cuba. 24 June 2022,
---
Cuba officially joined the Alliance for Energy of the Chinese Belt and Road Initiative (BRI) in October 2021, a project to build an international mega-platform for cooperation and exchange under the principle of shared profit.
The Belt and Road Energy Alliance began in October 2018 during the Belt and Road Energy Ministerial Conference in Suzhou, and was officially launched in Beijing in April 2019. The Alliance currently has 29 member countries.
Cuba began investing in renewable energy in 2014 and is ramping up its efforts to make renewables its principal source of electricity by 2030.
Cuba plans to significantly increase renewables its principal source of electricity and to produce 24% of its electricity from renewables such as sugarcane biomass, solar panels, wind farms, and small hydroelectric plants by 2024. "Photovoltaic solar energy is the one with the most progress, and there are 65 parks built throughout the country and another 15 are in process that will increase the installed power to 42 megawatts," says Tatiana Amaran Bogachova, general director of the Electricity Department at Cuba's Ministry of Energy and Mines.
Electricity from solar panels costs 95% less than electricity from traditional thermoelectric facilities.
Ovel Concepcion, director of renewable sources at Cuba's Electric Union, says Cuba expects to install 700 megawatts of renewable solar power by 2030, as well as 688 MW in wind farms, and 56 MW in hydroelectric plants.
Sources:
China Environment Net, 24 October 2021. https://china-environment-news.net/blog/2021/10/24/cuba-now-part-of-the-belt-and-road-energy-alliance/
See attached for overview of Cuba's current energy transformation projects: https://inviertaencuba.mincex.gob.cu/en/sector/energy/