Originally posted 21 July 2022
AGRICULTURAL HERITAGE FOR RURAL PROSPERITY
The World Conference on Globally Important Agricultural Heritage Systems opened 18 July 2022 in Qingtian County, Zhejiang, China, with the theme of "Agricultural Heritage for Rural Prosperity."
The conference under the Food and Agriculture Organization of the United Nations was co-hosted by China's Ministry of Agriculture and Rural Affairs and the government of east China's Zhejiang Province.
President Xi Jinping stressed that it is the common responsibility of the mankind, who has created splendid farming civilization in the long history, to protect agricultural heritage.
China has actively responded to the globally important agricultural heritage systems program initiated by the Food and Agriculture Organization of the United Nations (UN), and the country has been protecting and inheriting agricultural heritage, and constantly advancing the protection practices, Xi pointed out.
China is willing to work with the international community to strengthen the protection of agricultural heritage systems, further tap their economic, social, cultural, ecological, scientific and technological value, help implement the UN 2030 Agenda for Sustainable Development, and promote the building of a community with a shared future for mankind, Xi noted.
Source: CCTV, 19 July 2022. https://english.cctv.com/…/ARTIwn1OfzKcSLQTyTNPIU6Q2207…
See also: https://china-environment-news.net/…/how-thousand-year…/
---
Agricultural Heritage: A Legacy for the Future
The concept of FAO Globally Important Agricultural Heritage Systems (GIAHS) is distinct from, and more complex than, a conventional heritage site or protected area/landscape. A GIAHS is a living, evolving system of human communities in an intricate relationship with their territory, cultural or agricultural landscape or biophysical and wider social environment.
The humans and their livelihood activities have continually adapted to the potentials and constraints of the environment and also shaped the landscape and the biological environment to different degrees. This has led to an accumulation of experience over generations, an increasing range and depth of their knowledge systems and generally, but not necessarily, a complex and diverse range of livelihood activities, often closely integrated.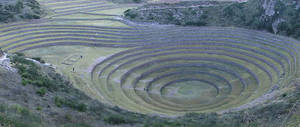 The resilience of many GIAHS sites has been developed and adapted to cope with climatic variability and change, i.e. natural hazards, new technologies and changing social and political situations, so as to ensure food and livelihood security and alleviate risk. Dynamic conservation strategies and processes allow maintaining biodiversity and essential ecosystem services thanks to continuous innovation, transfer between generations and exchange with other communities and ecosystems. The wealth and breadth of accumulated knowledge and experience in the management and use of resources is a globally significant treasure that needs to be promoted and conserved and, at the same time, allowed to evolve.
Source: https://www.fao.org/giahs/background/en/
See: https://www.fao.org/giahs/giahsaroundtheworld/designated-sites/asia-and-the-pacific/en/